Educational Leapfrog Workshops
Finding the confidence for homeownership &
SECURELY
We are pleased to be sponsoring an upcoming FREE ZOOM event with Terry Ward, CMB who runs the Leapfrog Home Financing Workshop. Learn some valuable information to provide the boost you need for a successful home search.
-Markus Schmucki, CEO — MereSecure Inc
Want to buy a home but think you cannot qualify…or find the process just too difficult? Not sure where to start? Cannot trust the information you are receiving? Join our FREE workshop to learn more and be prepared.
Who is running the workshop?
Terry Ward will be leading the workshop and Markus Schmucki will provide insight to the securing of data and its importance.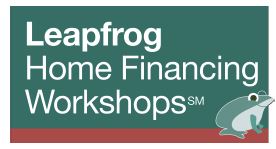 Terry ward, cmb \ big Valley mortgage
Terry is a business author and educator, mortgage professional and loan officer. Terry holds the Certified Mortgage Banker (CMB) designation awarded by the Mortgage Bankers Association of America. Big Valley Mortgage is a subsidiary of American Pacific Mortgage, the country's 12th largest retail mortgage lender.
Sponsor & Workshop Content Contributor
Markus schmucki, CEO
Markus Schmucki, has 30+ years experience working in the IT Industry. Currently working with all technical hardware and software plus offering a secure file platform. Markus served 15 years as co-founder of a successful FinTech company working with Fortune 100 financial companies with roles including the Chief Information Security Officer for a custom SaaS product.
ZOOM event ON
A FUTURE DATE
. IT IS A FREE EVENT.
Sign up or Unable to JOIN US ... Join our workshop interest list for a future one?
Please sign up. If you are not able to make this upcoming FREE event please also provide us your name and email if you want and select the general area where you are looking to move to or re-locate. Select the button —  I'm interested in attending.
Your name will not be shared with any other party without your consent. If you have any questions, please feel free to reach out to us and mention the "home ownership workshop by Terry" .
We Are Here To Help You With Any Questions You May Have
Whether you own a home, rent or are looking to learn more about how to be better informed, this workshop will equip you to be better prepared. One important point of this workshop is to educate to avoid being misled with misunderstandings and info that steer you in the wrong direction.
Signup on our interest list.
If you are already enjoying homeownership, you are welcome to invite anyone in your circle of family, friends and work associates to signup and attend. We will also talk about the benefits of refinancing at today's historically low interest rates.
The valley is a big ocean and we want to inform everyone without any obligation or pressure to utilize our network of professionals.
100% no cost. No obligation for committing to anything. 
Leapfrog covers the basics to help you understand the process, but goes much further. It helps you overcome common misunderstandings, creates confidence and shows specific steps you can take for a successful home search.